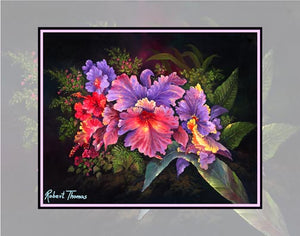 Robert Thomas Hawaii Canvas Giclee Print
This is beautiful Giclee Print by Robert Thomas. This is a canvas print featuring a soft digital boarder, designed by Robert himself.
This is a Giclee printed on canvas and cut to size by hand, 8"x10" or 11"x14". Please note that this print is not matted or framed and will be rolled and shipped in a tube. Ready to be placed in a frame behind glass. 
Robert Thomas painted in Hawaii for over 48 years. Capturing Hawaii's beauty Robert painted everyday.
Robert found most his inspiration in Hawaii while diving the clear ocean, bodyboarding the winter swells, hiking the lush valleys and photographing the fierce lava at Kīlauea.
Sadly Robert passed away in April of 2019, leaving us beautiful treasures and memories from his creations in his paintings today.
This painting was originally painted in 2018 in Kailua Kona, Hawaii.
"I feel that Hawaii is another garden of Eden. The Hawaiian people have been blessed. As a non native Hawaiian I feel privileged to paint one of the most beautiful places in the world.
Everything in Hawaii is sacred to the Hawaiian people. I believe if I am given the opportunity to live in such a beautiful place I need to give something back. I attempt to give back to Hawaii by painting all of its beauty.
I try to capture present and past memories forever on canvas. I don't want to take anything from Hawaii, it has already given me so much.
Aloha to Hawaii and all its wonderful people"
Robert Thomas March 17, 2006